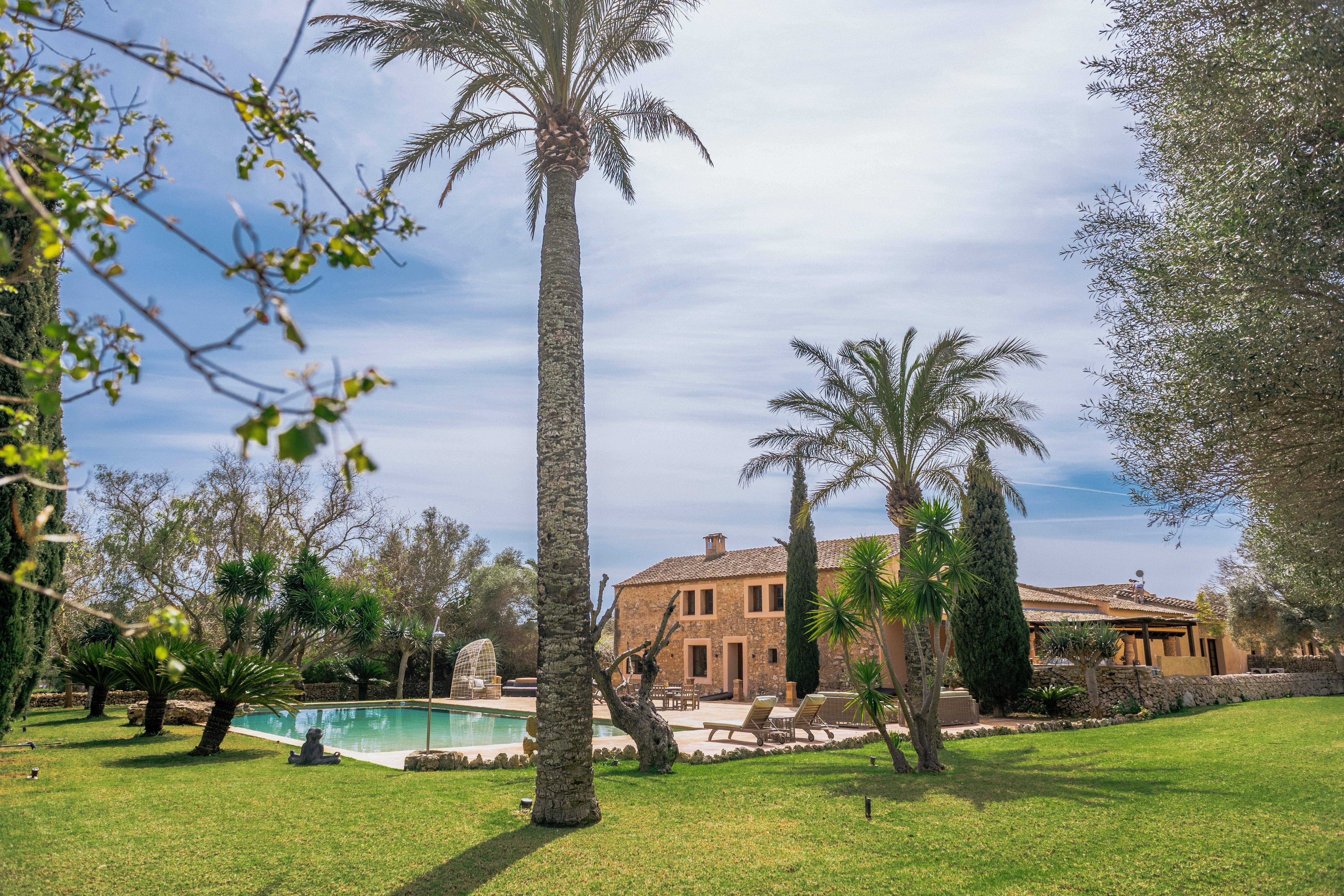 All about Finca
Ses Cases de Son Mut
Receive a detailed description of the finca and about your reservation. Find out everything about your stay and much more...
Finca Ses Cases de Son Mut
Short introduction
Far away from the hectic everyday life, this historic luxury finca, with construction beginning in the 13th and completion in the 16th century, offers you a special flair for your luxury vacation.
Already on the long avenue leading to the building complexes you gently immerse yourself in the breathtaking environment.
The former royal estate rests in the midst of olive and palm groves on 17 hectares of its own land.
Guests looking for relaxation and recreation will expect a finca holiday at the highest level.
The very stylish and qualitative furnishings of the almost 500 m² of living space and the well-kept park-like outdoor area impress with their wonderful Mediterranean ambience.
Despite the quiet and safe location of the finca, you will find various shops within a 10-minute radius or you can easily reach Palma after a 20-minute drive.
Various beaches are within a 10-20 minute radius.
The airport can be reached in just 15 minutes by car .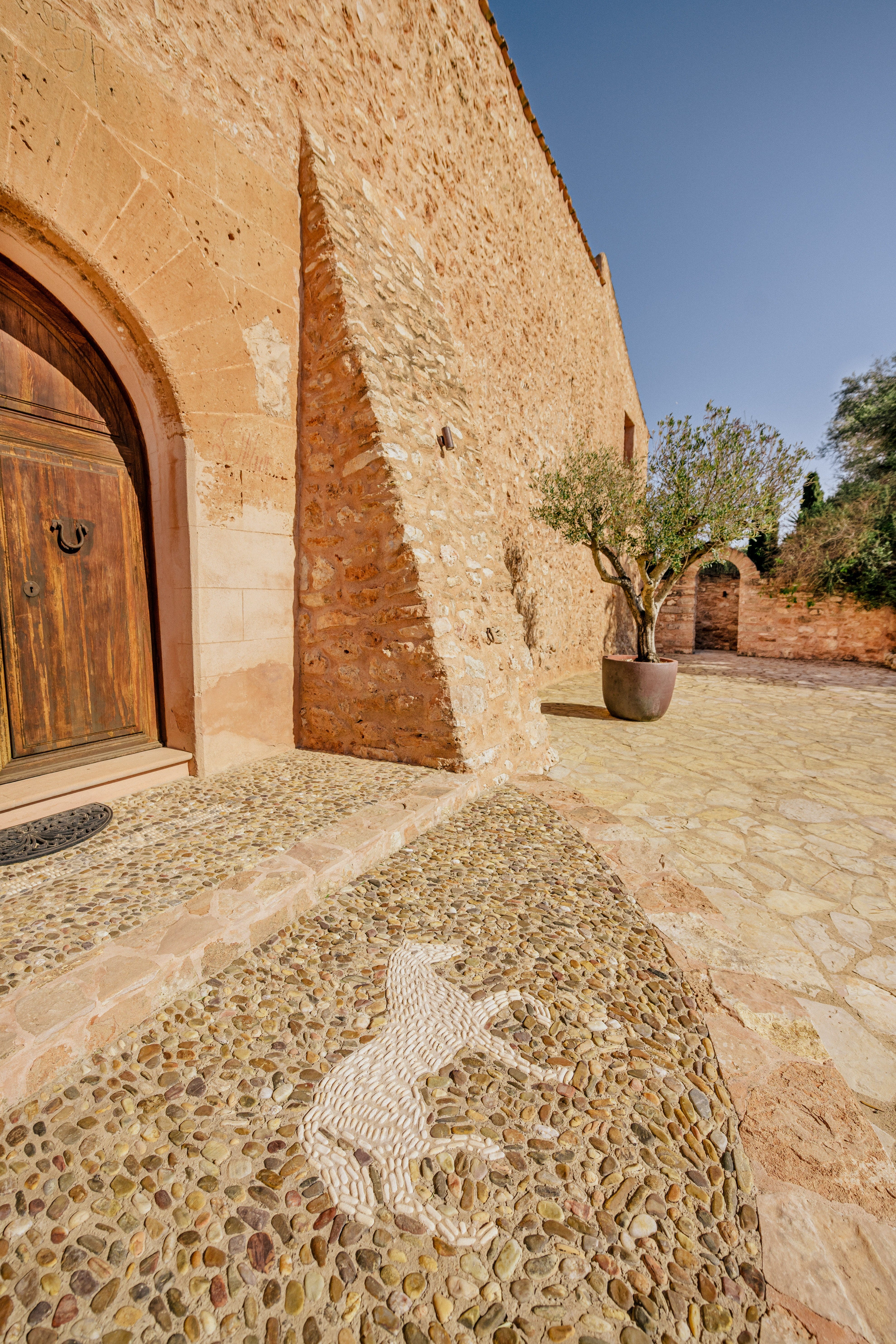 Specials
A special highlight of the manorial estate is certainly the dreamlike, park-like garden! The lovingly planted trees and bushes bloom in full splendor here. There are red blooming bougainvilleas, countless olive trees, all kinds of palm trees, as well as numerous exotic conifers.
The 18 x 12 meter pool with beach and heated whirlpool is particularly impressive.
In addition, an outdoor kitchen awaits you for your exuberant and yet relaxing BBQ's.
The extremely high-quality furnishings and equipment, the high level of comfort, the complete peace and quiet as well as the great location in the middle of the unique landscape make this luxury domicile the ideal hideaway.
The housekeeper, who is present every day, provides, among other things, a daily cleaning service as well as changing the laundry. Other highlights include the helicopter landing sight and much more.
Would you like to add more extras? Breakfast or catering services are available on request. Or let yourself be pampered by our private chef and / or benefit from our decoration service.
Due to its unique location, the Finca Ses Cases de Son Mut is also perfect for your event, which can be carried out by prior arrangement.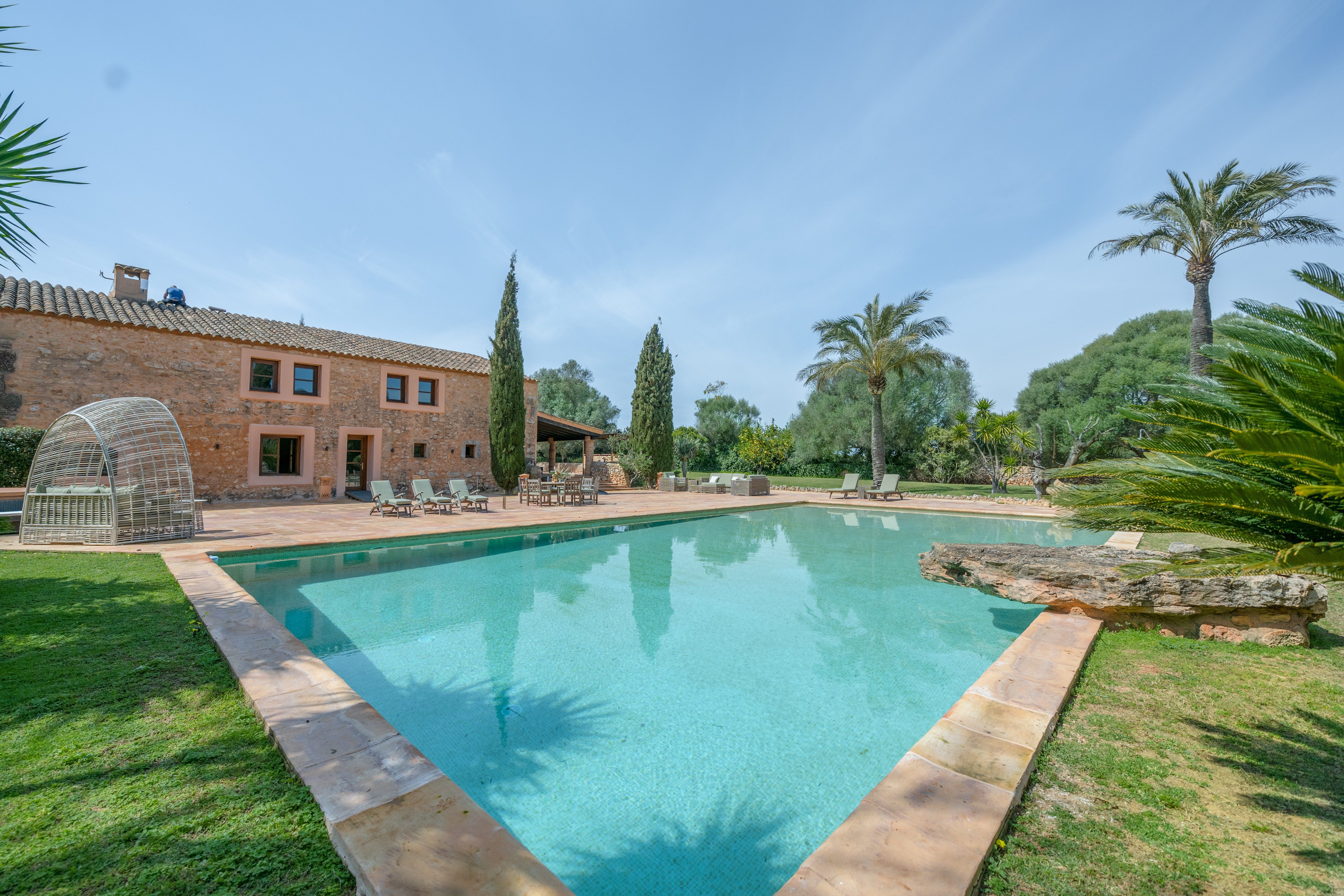 Living space: ca. 500 m²
Property space: ca. 17 Hektar
Maximum occupancy: max. 17 guests
rural location near the city
panoramic view
privacy
barrier-free
child friendly
pets allowed
daily housekeeping
suitable for cycling
privat chef service possible
decoration service possible
suitable for wedding and other celebrations
motor yacht excursions possible
rental with skipper possible
helicopter landing sight
The beautifully landscaped & very well-kept outdoor area of Finca Ses Cases de Son Mut leaves nothing to be desired!
Just let your mind wander. Enjoy relaxing hours in the wonderful pool area, in the 18 x 12 meter pool with beach or in the heated whirlpool. Sun worshipers will love the exquisite pool and lounge furniture.
Numerous covered terraces offer you peace and comfort.
The perfectly equipped outdoor kitchen invites you to a BBQ which you can enjoy in social gathering in the various dining areas.
When walking through the park-like, wonderfully manicured garden, you are sure to make a new discovery every time.
Reading a book in the shade of an olive tree, or perhaps indulging in a cocktail under a palm tree, are things not to be missed.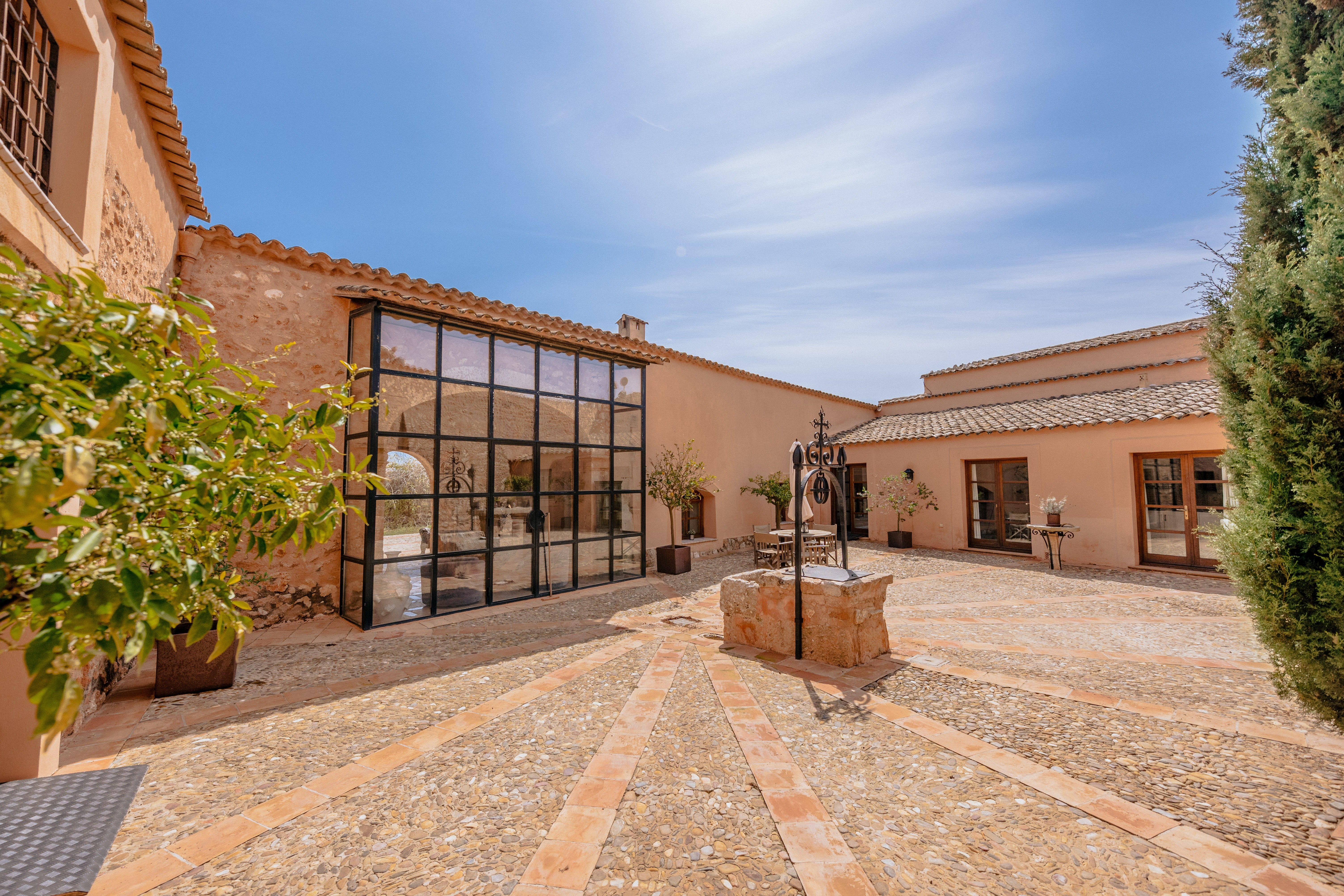 patio
covered terraces
sun terraces
manicured lawns
dining areas
outdoor kitchen with top-equipment like 2 refrigerators, 1 gas kettle grill, 1 Rössle palet grill, 2 flames gas stove
pool area with 18 x 12 meter pool, showers & heated whirlpool
sunbeds
2 garages
helicopter landing sight
The main house of the Finca Ses Cases de Son Mut forms the central focus of the stately property .
The spacious living and dining area with its stylish and high-quality furnishings awaits you here.
In many nooks and crannies of the finca you will discover dates that look back on the long history of the property. But there is also a lot of love for detail and art in perfect harmony without wanting to suppress the origin of the finca.
In this main house you will find yourself together again and again during your luxury vacation, be it cooking together, having breakfast, dinner or enjoying a glass of wine in the fireplace room.
eat-in kitchen with Falcon 5 flames induction cooker
2 stoves
2 refrigerators
Miele dishwasher
pantry
laundry room
2 washing machines
2 dryers
breakfast room
dining room with open fireplace
living room with open view to patio
master bed-room for max. 2 guests
bathroom en suite
dressing room
guest room for max. 2 - 4 guests
bathroom en suite
various side rooms like
guest bathroom
fireplace room
wine cellar
etc.
In addition to the main house, authentic outbuildings ensure special privacy.
The casita or the apartment; perfect for families with children or guests who are looking for a bit more peace and quiet but still do not have to miss the proximity to the main house or the entire outdoor area.
Casita for max. 2 - 3 guests
living room
small kitchen
bedroom
bathroom en suite
appartement for max. 4 guests
entree
kitchen
living room
bedroom
bathroom with shower
terrace
guest room for max. 2 - 4 guests with
bathroom en suite
Since we appreciate the high demands of our guests, a high level of service is very important to us.
This of course starts with a simple and uncomplicated reservation.
Just let us know your desired travel period and we will inform you about availability and prices.

Upon your arrival, a personal and of course friendly host awaits you to welcome you to the Finca Ses Cases de Son Mut.
After a guided tour through the stately property, just start and enjoy your dream vacation in a class of its own.
Finca Ses Cases de Son Mut - not only different, also better!
Finca Ses Cases de Son Mut